PVC Distributor Hubs
TOUGH STUFF® Distributor Hubs are machined of solid PVC bar stock for maximum quality and durability. Standard hubs are stocked with side inlets drilled and tapped 90º perpendicular to the main piping thread. The side inlets Type A and Type B hubs are drilled and tapped at approximately a 13º angle. Side inlets angled upward place the hub and laterals assembly lower in the dish of a tank, utilizing more of the tank's capacity. When ordering, please specify Type A, Type B or Standard hub.
Custom modifications, such as female sockets, number of inlets and degree angles are available. TOUGH STUFF Distributor Hubs can be manufactured from materials other than PVC, including CPVC, polypropylene, Teflon and PVDF. Please contact your MATTSON/WITT sales representative to discuss custom sizes, configurations and materials.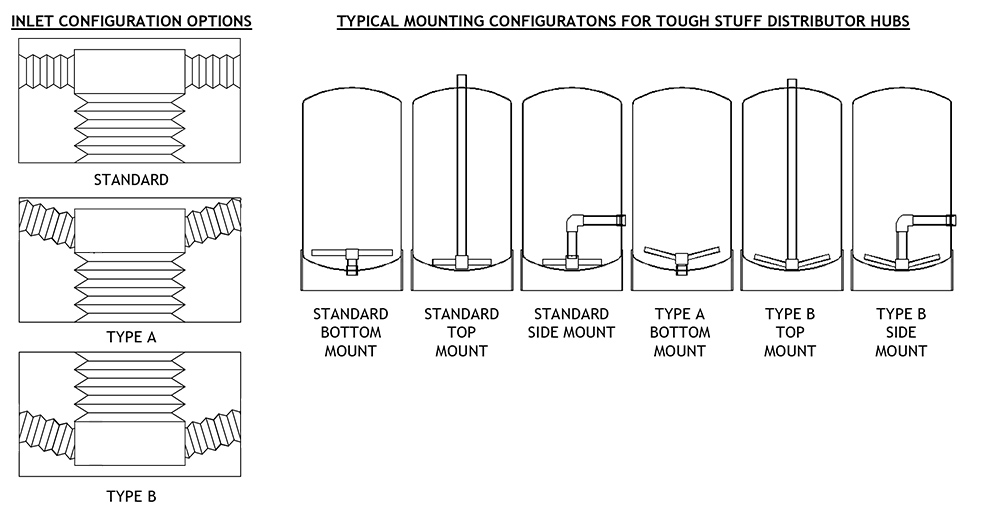 STOCKED PVC DISTRIBUTOR HUBS

ITEM
DESCRIPTION
DH3148B3900
DIS HUB DSF 3900 3FPT 1.25" FPTX X 8 .010 TYPE (DH SYSTEMS)
DSC15348
DIS HUB 1.900 SOC .75" NPT X 8 "B" STYLE (DH SYSTEMS)
DSC2348
DIS HUB 2" NPSM .75" FPT X 8 TYPE A (DS SYSTEMS)
DSC2S348
DIS HUB 2" SOCKET .75" FPT X 8 TYPE B (DH SYSTEMS)
DH3148A
DIS HUB 3" NPSM 1.25" FPT X 8 TYPE A (DSF SYSTEMS)
DH3148B
DIS HUB DSF 3" NPSM FPT 1.25" FPT X 8 TYPE B (DH SYSTEMS)
DH2146A
DIS HUB DSF 2FPT 1.25" FPT X 6 TYPE A (DSF SYSTEMS)
D5080
DIS HUB ONLY PVC 1.5"/6-.75" TAPS STRAIGHT
D5080A
DIS HUB ONLY PVC 1.5"/6-.75" TAPS TYPE A
D5080B
DIS HUB ONLY PVC 1.5"/6-.75" TAPS TYPE B
D5082
DIS HUB ONLY PVC 2.0"/8-.75" TAPS STRAIGHT
D5082A
DIS HUB ONLY PVC 2.0"/8-.75" TAPS TYPE A
D5082B
DIS HUB ONLY PVC 2.0"/8-.75" TAPS TYPE B
D5084
DIS HUB ONLY PVC 2.5"/12-.75" TAPS STRAIGHT
D5084A
DIS HUB ONLY PVC 2.5"/12-.75" TAPS TYPE A
D5086
DIS HUB ONLY PVC 3.0"/16-.75" TAPS STRAIGHT
D5086A
DIS HUB ONLY PVC 3.0"/16-.75" TAPS TYPE A
D5086B
DIS HUB ONLY PVC 3.0"/16-.75" TAPS TYPE B
D5088
DIS HUB ONLY PVC 4.0"/16-1.0" TAPS STRAIGHT
D5088A
DIS HUB ONLY PVC 4.0"/16-1.0" TAPS TYPE A
D5088B
DIS HUB ONLY PVC 4.0"/16-1.0" TAPS TYPE B
D5089
DIS HUB ONLY PVC 6.0"/16-1.5" TAPS STRAIGHT
D5089A
DIS HUB ONLY PVC 6.0"/16-1.5" TAPS TYPE A
D5089B
DIS HUB ONLY PVC 6.0"/16-1.5" TAPS TYPE B
TECHNICAL SPECIFICATIONS
Maximum recommended operating temperature................................ 140ºF (60ºC)
Maximum recommended operating pressure...................................... 150 PSI
Materials................................................................................................ PVC & Buna-N