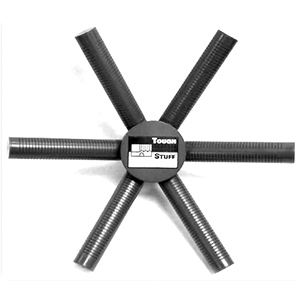 PVC Slotted Laterals
TOUGH STUFF® PVC Slotted Laterals are fabricated of high quality PVC pipe cut to length, slotted, welded and threaded in our plant. We have manufactured PVC laterals from our standard prints and to our customers' specifications for almost 50 years.
TOUGH STUFF PVC Slotted Laterals are offered in three grades of wall thickness: thin wall SDR #26, Schedule 40 and Schedule 80. Standard diameters include .5", .75", 1.0", 1.25", 1.5" and 2.0". One end is threaded MNPT. The other end is closed with a flat end plug.
Generally, laterals up to 5.0" long receive 1/16" spacing between slots. Laterals from 5.0" to 8.0" long receive 1/8" spacing. Laterals over 8.0" long receive 3/16" spacing. Laterals 1.5" in diameter and smaller are slotted in three rows. Laterals 2.0" in diameter and larger have four rows of slots. To minimize pressure loss when in service, the open area of slots in a TOUGH STUFF PVC Slotted Lateral is engineered to be more than 1-1/2 times the cross-sectional open area of the pipe.
Standard slot widths are 0.008", 0.010", 0.012" and 0.020". Other slots widths are available for a nominal fee. TOUGH STUFF SLOTTED LATERALS are available in plastics other than PVC, including CPVC, polypropylene, Teflon and PVDF. We manufacture each lateral specifically as ordered, so most custom requests will not lengthen lead times. Please contact your MATTSON/WITT sales representative to discuss custom sizes, configurations and materials.
To accurately determine the length of a lateral, you must know both the tank and hub diameter. The formula is:
STOCKED PVC SLOTTED LATERALS

ITEM
DESCRIPTION
D6009-4.5
DIS LATERAL PVC SCH80 .5" X 4.5" OAL .010 SLOT
D6009-6
DIS LATERAL PVC SCH80 .5" X 6" OAL .010 SLOT
D6010-4.5
DIS LATERAL PVC SCH80 .75" X 4.5" OAL .010 SLOT
D6010-6
DIS LATERAL PVC SCH80 .75" X 6" OAL .010 SLOT
D6010-6.5
DIS LATERAL PVC SCH80 .75" X 6.5" OAL .010 SLOT
D6336
DIS LATERAL PVC SCH80 .75" X 7" OAL .010 SLOT
D6010-8
DIS LATERAL PVC SCH80 .75" X 8" OAL .010 SLOT
D6338
DIS LATERAL PVC SCH80 .75" X 9" OAL .010 SLOT
D6010-10
DIS LATERAL PVC SCH80 .75" X 10" OAL .010 SLOT
D6340
DIS LATERAL PVC SCH80 .75" X 12" OAL .010 SLOT
D6010-13
DIS LATERAL PVC SCH80 .75" X 13" OAL .010 SLOT
D6342
DIS LATERAL PVC SCH80 .75" X 15" OAL .010 SLOT
D6010-17
DIS LATERAL PVC SCH80 .75" X 17" OAL .010 SLOT
D6344
DIS LATERAL PVC SCH80 .75" X 18" OAL .010 SLOT
D6010-20
DIS LATERAL PVC SCH80 .75" X 20" OAL .010 SLOT
D6345
DIS LATERAL PVC SCH80 .75" X 21" OAL .010 SLOT
D6363-20
DIS LATERAL PVC SCH80 1.00" X 20" OAL .010 SLOT
D6363-26
DIS LATERAL PVC SCH80 1.00" X 26" OAL .010 SLOT
D6012-30
DIS LATERAL PVC SCH80 1.00" X 30" OAL .010 SLOT
D6372-9-3SP
DIS LATERAL SCH 80 1.25'' X 9'' OAL .010'' 54 SLOTS 5/16'', 1/8'' AND 1/16'' SPACING X 3 SIDES PVC
D6374-12-3SP
DIS LATERAL SCH 80 1.25'' X 12'' OAL .010''59 SLOTS 5/16'', 1/8'' AND 1/16'' SPACING X 3 SIDES PVC
D6376-15-3SP
DIS LATERAL SCH 80 1.25'' X 15'' OAL .010'' 82 SLOTS 5/16'', 1/8'', AND 1/16'' SPACING X 3 SIDES PVC
D6378-18-3SP
DIS LATERAL SCH 80 1.25'' X 18'' OAL .010''109 SLOTS 1/4'', 1/8'', AND 1/16'' SPACING X 3 SIDES PVC
D6014-20-3SP
DIS LATERAL PVC SCH 80 1.25''X20''OAL .010 117 SLOTS 1/4'', 1/8'', & 1/16'' SPACING
D6010-30-B
DIS LATERAL PVC SCH 80 .75"X30"OAL .010 SLOTS THREAD BOTH ENDS LESS PLUG
D6012-30-B
DIS LATERAL PVC SCH 80 1.00"X30"OAL .010 SLOTS THREAD BOTH ENDS LESS PLUG
D6014-48-B
DIS LATERAL PVC SCH 80 1.25'' X 48'' OAL .010 SLOTS THREAD BOTH ENDS LESS PLUG
D6016-48-B
DIS LATERAL PVC SCH 80 1.5"X48"OAL .010 SLOTS THREAD BOTH ENDS LESS PLUG
TECHNICAL SPECIFICATIONS
Maximum recommended operating temperature............................... 140ºF (60ºC)
Maximum recommended operating pressure..................................... 150 PSI
∆P @ 5 ft./sec. velocity........................................................................ ≤ 3 PSI
Materials.............................................................................................. PVC & ABS
Slot width............................................................................................. 0.010" (0.254mm)